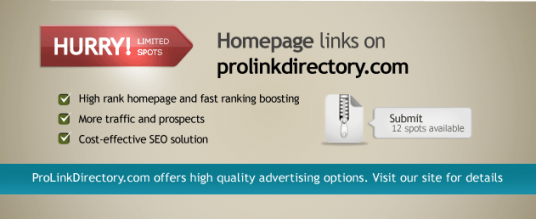 Pro Link Directory, one of the established online directories is still adding new features for its clients. Pro Link Directory now offers for all link types optional exposure in the form of deep links and homepage links. In short
a deep links submission gives you more links. For example, I could submit linkdirectory.com and also linkdirectory.com/submit.php, linkdirectory.com/Sports/ and linkdirectory.com/contact.php, all at the same time. Search engines give your site extra credit for the 'deep links'
having a homepage link, means that the guys from Pro Link Directory will put your site on their main page. The advantage is that some of the high rankings of the home page will p ass to your site, offering an extra boost in rankings and more traffic.